ELECTROMYOGRAPHY & ELECTRONEUROMYOGRAPHY (EMG & ENMG)

NERVE CONDUCTION STUDIES:
Motor, Sensory, Combined Motor & Sensory, Anomalous Innervation.
F-Waves, Blink Reflex, H Reflex.
Repetitive Stimulation.
Inching.
ollision and Refractory Testing.
Motor Unit Number Estimation (MPS).
New optional Auto Stimulation program
Automatically finds the supramaximal response.
New Combined Sensory Index (CSI).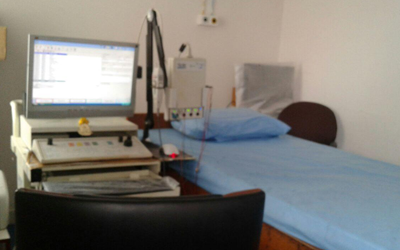 EMG
Integrated EMG examinations
Spontaneous Activity
Single motor unit analysis
Maximal Volitional Analysis
Quantitative EMG
Multi-MUP Analysis
Turns and Amplitude and frequency analysis test
Various types of analysis
Volitional SFEMG.
Stimulated SFEMG.
Fiber Density.
Macro EMG.
Single Fiber/Macro EMG Analysis
Maximal reanalysis and editing capabilities
EVOKED POTENTIALS
Five modes of EP testing
AEP with patient hearing threshold function.
SEP.
VEP.
ERG/EOG.
P300/CNV.