About Us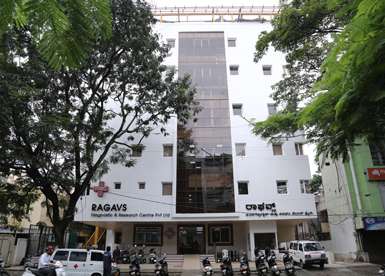 RAGAVS DIAGNOSTIC & RESEARCH CENTRE PVT LIMITED, was established during December 1994, by a group of Like-minded Consultant Doctors, at Jayanagar, Bangalore, initially with a Single-slice CT Scanner and manned by Promotor Radiologist, meeting with good Clinical response.
Over the years, Diagnostic armament was expanded, with periodic upgrading of existing Departments, to its present state.  Thus, during its 24th year of Clinical functioning, it occupies its own Premises, a multistoried complex at 10/804-1, Patalamma Temple Road (Anebande Road), 3rd Block, Jayanagar, Bangalore 560011. 
It is run by Qualified Professionals with Vast Experience, partially acquired at the Diagnostic Centre itself, assisted by experienced Technique Staff – Upholding quality to its best ability.
Read More

What Make Us Different


QUALIFIED
DOCTORS

AFFORDABLE
PRICES

PROFESSIONAL
STAFF

HAPPY
CLIENTS
Our Faclities

Health Packages